Rent out your labs?
Rent out your labs? Present the labs on LabForRent. A great choice!
LabForRent makes targeted promotion and reaches companies with growth ambitions in Life Sciences, Nanotechnology, Chemistry, Health, Agro & Food, Materials, Energy and Space. In the Netherlands and abroad.
We provide online visibility. We are strongly focused on hightech facilities. Our website ranks high on search engines. We receive many and very diverse requests from companies in search of lab space, cleanroom, pilot plant or test facility in the Benelux. Both start-ups, scale-ups and mature enterprises. Some parties are not just looking for space, but above all for partnerships for joint R&D.
You can benefit from our services in 4 ways: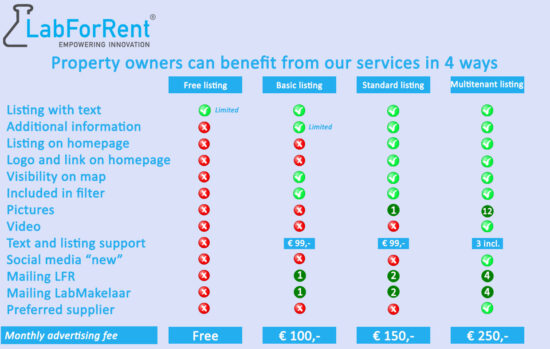 For a payment of € 99,- we prepare your full presentation.
Companies can look for lab space via our website.
Can't find what you are looking for?
For a one-off payment of € 395,- we'll actively search (amongst others in our database and within our connections) for suitable space and keep you closely informed of the progress. You will be notified as soon as a new space appears that meets your desired profile. The cost of renting a particular space depends entirely on the hiring of the party and the facilities / surface that is rented. Visits to the facilities (if desired) are guided. You can send us a search request.
*All our rates are ex VAT.
FAQ
Can I deliver the text for the presentation in Dutch?
Yes, you can. If you are satisfied with the presentation we have prepared, it will be translated (at your expense) into English.
What is the notice period?
One month. However there is a minimum period of 3 months.