New collaboration LabForRent in 2021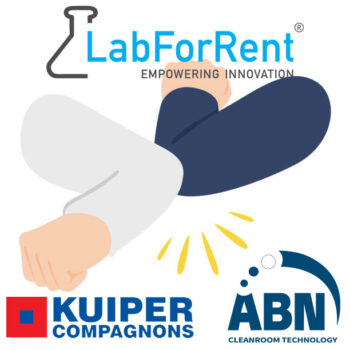 Last year was the first full year in which LabForRent was part of LabMakelaar Benelux B.V.. We have used this year to make the company our own, to further develop our strategies, to offer new services, but most of all, to meet new contacts and enter into new collaborations. We entered partnerships with ScientiQ Staffing B.V. and ATVE.
The ultimate goal is to be able to offer a total package within the world of laboratory to support innovation.
This year we are very pleased to announce new collaborations that fit into our strategy of circular economy;  ABN Cleanroom Technology and KuiperCompagnons.
ABN Cleanroom Technology is one of the major, leading players in the field of cleanroom technology. As a leading global cleanroom technology and life sciences company, they provide a broad range of cleanroom solutions and services for production and development of (bio)pharmaceutical and micro-electronics applications. They help improve outcomes for healthcare providers and for technology innovators in Europe, with pre-engineering at the core of their business.
Their modular and circular cleanroom solutions, like the ICONIC, are based on standardized and pre-engineered building blocks. This significantly increases the reliability of cleanrooms and considerably reduces the life cycle cost. It is their belief that modularity and pre-engineering makes cleanroom-technology affordable. ABN's mobile facilities have demonstrated tremendous potential in wide-ranging industries.
KuiperCompagnons has been active in the design of complex utility buildings including laboratories, hospitals and clean rooms for over 20 years. They create building environments where specific processes take place, in which safety, comfort, durability and sustainability are united in one. They design for people. The perception of space plays a crucial role: people want to be able to identify with their environment. Recognizability and atmosphere are the most essential ingredients for this. In this field, functionality and experience, form an interesting area of tension. The search for a symbiosis between them is what drives them, creating something special.
LabForRent is a user-friendly, digital platform, connecting companies to available lab spaces, cleanrooms, pilot plants and test facilities in the Benelux. Making the complete offer transparent. This is unique in the Benelux. With this platform, you can advertise your laboratory premises and reach out to many companies or find the right laboratory space for your own company. We are convinced that having suitable space for business activities is crucial for companies with growth ambitions. LabForRent is part of LabMakelaar Benelux B.V.
LabMakelaar Benelux B.V. strives for a world with a strong circular economy, in which companies get easy access to a total solution for furnishing their laboratory with high-quality and recycled material. For this, LabMakelaar offers an online sales platform with a large range of second-hand laboratory equipment, furniture and general laboratory supplies.
We thank our cooperation partners for working with us. By joining forces we can be of even more help to you.
Terug