Collaboration LabForRent and ATVE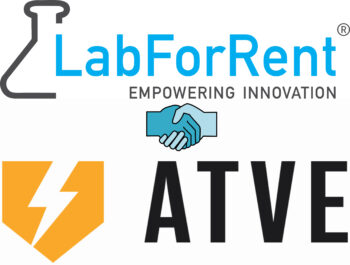 In addition to mediation between tenant/landlord and sharing lab space, LabForRent also focus on collaboration and bundling strength; LabForRent want to offer a total package. Safety is one of our top priorities. We want start-ups to be aware of the safety issues concerning working in labs. Therefor we take great pride in announcing that our company LabForRent has recently collaborated with ATVE – part of the VAPRO group. We thank our partner in collaboration for its association with us.
ATVE finds safe working and risk reduction the most important starting point for the Dutch business community. ATVE has developed safety courses for all employees who are exposed to certain risks in their work – whether they are in high-voltage pylons, working with hazardous substances (laboratories) within companies / schools or supervising activities that third parties perform on their terrain. Safety is the common thread in all cases. ATVE offers a complete range of courses for every required certification, at all possible levels and suitable for employees with all kinds of functions imaginable. To be specifically mentioned are the training courses for laboratories and small industry.
LabForRent is a user-friendly, digital platform, connecting companies to available lab spaces, cleanrooms, pilot plants and test facilities in the Benelux. Making the complete offer transparent. This is unique in the Benelux. With this platform, you can advertise your laboratory premises and reach out to many companies or find the right laboratory space for your own company.
We are convinced that having suitable space for business activities is crucial for companies with growth ambitions.
LabForRent is part of LabMakelaar Benelux B.V.
LabMakelaar Benelux B.V. strives for a world with a strong circular economy, in which companies get easy access to a total solution for furnishing their laboratory with high-quality and recycled material. For this, LabMakelaar offers an online sales platform with a large range of second-hand laboratory equipment, furniture and general laboratory supplies.
By combining our resources we can be an even bigger help for you.
Terug